Thom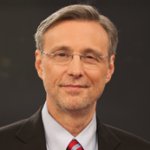 Thom Hartmann is a progressive national and internationally syndicated talkshow host whose shows are available in over a half-billion homes worldwide. He's the New York Times bestselling, 4-times Project Censored Award winning author of 24 books in print in 17 languages on five continents. Leonardo DiCaprio was inspired by Thom's book "The Last Hours of Ancient S
Thom's Blog
Sep. 19, 2017 2:49 pm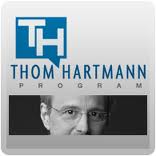 As Donald Trump sends mixed messages about whether the U.S. will actually withdraw from the Paris Climate Accords, researchers at the Scripps Institute of Oceanography have come to a shocking conclusion about climate change.


From Cracking the Code:
"Thom Hartmann ought to be bronzed. His new book sets off from the same high plane as the last and offers explicit tools and how-to advice that will allow you to see, hear, and feel propaganda when it's directed at you and use the same techniques to refute it. His book would make a deaf-mute a better communicator. I want him on my reading table every day, and if you try one of his books, so will you."
From Screwed:
"Hartmann speaks with the straight talking clarity and brilliance of a modern day Tom Paine as he exposes the intentional and systematic destruction of America's middle class by an alliance of political con artists and outlines a program to restore it. This is Hartmann at his best. Essential reading for those interested in restoring the institution that made America the envy of the world."
From Cracking the Code:
"No one communicates more thoughtfully or effectively on the radio airwaves than Thom Hartmann. He gets inside the arguments and helps people to think them through—to understand how to respond when they're talking about public issues with coworkers, neighbors, and friends. This book explores some of the key perspectives behind his approach, teaching us not just how to find the facts, but to talk about what they mean in a way that people will hear."
From Unequal Protection, 2nd Edition:
"Beneath the success and rise of American enterprise is an untold history that is antithetical to every value Americans hold dear. This is a seminal work, a godsend really, a clear message to every citizen about the need to reform our country, laws, and companies."
From Screwed:
"I think many of us recognize that for all but the wealthiest, life in America is getting increasingly hard. Screwed explores why, showing how this is no accidental process, but rather the product of conscious political choices, choices we can change with enough courage and commitment. Like all of Thom's great work, it helps show us the way forward."