Thom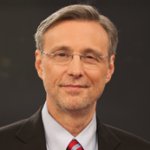 Thom Hartmann is a progressive national and internationally syndicated talk show host whose shows are available in over a half-billion homes worldwide. He's the New York Times bestselling, 4-times Project Censored Award-winning author of 24 books in print in 17 languages on five continents. Leonardo DiCaprio was inspired by Thom's book "The Last Hours of Ancient
Thom's Blog
Sep. 19, 2019 4:22 pm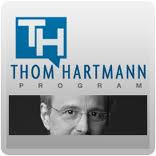 News reports increasingly are suggesting that Donald Trump has committed treason in making a promise to a foreign leader. The question is, who is the foreign leader and what was the promise?
From Screwed:
"Thom Hartmann's book explains in simple language and with concrete research the details of the Neo-con's war against the American middle class. It proves what many have intuited and serves to remind us that without a healthy, employed, and vital middle class, America is no more than the richest Third World country on the planet."
From Screwed:
"Once again, Thom Hartmann hits the bull's eye with a much needed exposé of the so-called 'free market.' Anyone concerned about the future of our nation needs to read Screwed now."
From The Thom Hartmann Reader:
"Thom Hartmann is a creative thinker and committed small-d democrat. He has dealt with a wide range of topics throughout his life, and this book provides an excellent cross section. The Thom Hartmann Reader will make people both angry and motivated to act."
From The Thom Hartmann Reader:
"With the ever-growing influence of corporate CEOs and their right-wing allies in all aspects of American life, Hartmann's work is more relevant than ever. Throughout his career, Hartmann has spoken compellingly about the value of people-centered democracy and the challenges that millions of ordinary Americans face today as a result of a dogma dedicated to putting profit above all else. This collection is a rousing call for Americans to work together and put people first again."
From Cracking the Code:
"Thom Hartmann ought to be bronzed. His new book sets off from the same high plane as the last and offers explicit tools and how-to advice that will allow you to see, hear, and feel propaganda when it's directed at you and use the same techniques to refute it. His book would make a deaf-mute a better communicator. I want him on my reading table every day, and if you try one of his books, so will you."