Today's Radio Show

Monday-Friday
noon-3:00 pm eastern
Tune in on satellite radio at SiriusXM Progress 127
Join Thom in our chatroom during the program!
Missed the live program?
Subscribe to Thom's podcast
Coming up today on The Thom Hartmann Program:
Call in Live!
(202) 808-9925
Daily Poll
Yes!
11%
No!
25%
Don't know! He flips/flops 2 or 3 times a day.....
64%
Today's TV Show

Monday-Friday
7:00 pm-8:00 pm eastern
Be sure to join Thom in our chatroom during the program!

Our newest video is here! Watch RESTORATION - plus check out CARBON, LAST HOURS & GREEN WORLD RISING - narrated by Leonardo DiCaprio & Thom Hartmann, directed by Leila Conners
BIG PICTURE POLITICS PANEL:
- Bryan Pruitt, RedState
- Danielle Blevins, Freelance Reporter
- George Landrith, Frontiers of Freedom
BEST OF THE REST: Exposing the Koch's Environment Corruption - Steven A. Medina, Attorney
DAILY TAKE: Trump Could Learn From the Rat Park Explanation
...LIVE from Washington, DC starting at 7pm Eastern...
Latest From The Big Picture
57:16
Tonight's Progressive Roundtable discusses Trump starting to talk like a Republican, whether Tim Canova can beat Debbie Wasserman Schultz in tomorrow's primary, and Bill Maher and Michael Moore's visit on Trump's campaign plane. Thom talks the hurdles Colorado is facing to ban fracking with Greenpeace USA's Diana Best and in tonight's Daily Take Thom details Colin Kaepernick's patriotic refusal to stand during the national anthem.
For more information on the stories we've covered visit our websites at thomhartmann.com - freespeech.org - and RT.com. You can also watch tonight's show on Hulu - at Hulu.com/THE BIG PICTURE and over at The Big Picture YouTube page. And - be sure to check us out on Facebook and Twitter!
Aug. 30, 2016 3:06 pm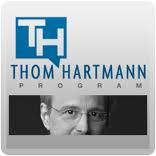 Even as Donald Trump's surrogates are re-tweeting photoshopped images of Hillary Clinton in blackface, Trump himself is trying to win the black vote by simply asking black Americans "What the hell do you have to lose?!"

And in response to the news that NBA star Dwyane Wade's cousin had been shot in Chicago, he sent out two tweets talking about how bad the crime rate is getting.