Today's Radio Show

Monday-Friday
noon-3:00 pm eastern
Tune in on satellite radio at SiriusXM Progress 127
Join Thom in our chatroom during the program!
Missed the live program?
Subscribe to Thom's podcast
Coming up today on The Thom Hartmann Program:
- Have American Workers Lost Their Tribe?
- How the Berniecrats Can Take Back Our Congress! Zephyr Teachout, Candidate for Congress (D-NY, 19th District)
Call in Live!
(202) 808-9925
Tuesday's TV Show

Monday-Friday
7:00 pm-8:00 pm eastern
Be sure to join Thom in our chatroom during the program!

Our newest video is here! Watch RESTORATION - plus check out CARBON, LAST HOURS & GREEN WORLD RISING - narrated by Leonardo DiCaprio & Thom Hartmann, directed by Leila Conners
BIG PICTURE POLITICS PANEL:
- Bryan Pruitt, RedState
- Anya Parampil, RT America
- Gianno Caldwell, Caldwell Strategic Consulting
BEST OF THE REST: Michael Mann on Extreme Heat - Dr. Michael Mann, Earth System Science Center-Penn State University/Dire Predictions: Understanding Climate Change (2nd edition)
Is It the End of the Atomic Era? Paul Gunter, Reactor Oversight Project, Beyond Nuclear
DAILY TAKE: Lying About Science for Politics is Evil
...LIVE from Washington, DC starting at 7pm Eastern...
Latest From The Big Picture
57:17
Tonight's Politics Panel talks the end of the $7 million Benghazi investigation, the Supreme Court's recent abortion decision, and how Senate Republicans are playing politics with funding for the Zika virus. Thom discusses how climate change is fueling heat related weather events with climatologist Michael Mann, author of "Dire Predictions: Understanding Climate Change," and in tonight's Daily Take Thom details the climate justice case against Exxon and how the U.S. needs to lead the world in combating climate change.
For more information on the stories we've covered visit our websites at thomhartmann.com - freespeech.org - and RT.com. You can also watch tonight's show on Hulu - at Hulu.com/THE BIG PICTURE and over at The Big Picture YouTube page. And - be sure to check us out on Facebook and Twitter!
Jun. 28, 2016 2:13 pm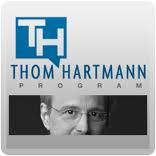 The Democratic Party is officially setting itself apart as the party of climate justice with the current draft of the party's platform.