Apr. 28, 2016 9:07 am
Join Thom in our chatroom during the program!
Apr. 27, 2016 12:37 pm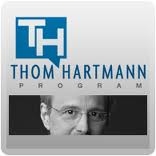 So, last night didn't go that well for Bernie Sanders.

Despite high hopes for a strong showing in the so-called "Acela primaries," he managed to win just one of the 5 states at play -- Rhode Island. As a result, his path to the Democratic nomination, although still open, just got a lot slimmer.


Apr. 26, 2016 9:06 am