Today's Radio Show

Monday-Friday
noon-3:00 pm eastern
Tune in on satellite radio at SiriusXM Progress 127
Join Thom in our chatroom during the program!
Missed the live program?
Subscribe to Thom's podcast
Coming up today on The Thom Hartmann Program:
- DNC Convention Final Day...Thom Talks Issues and More With Guests Tom Hayden, Terry O'Neill (NOW), Emily Schriock (Emily's List) and CT Gov. Dannel P. Malloy...
- Best of the Rest of the News and YOUR calls...
...LIVE from Washington, DC starting at 12pm Eastern...
Call in Live!
(202) 808-9925
Wednesday's TV Show

Monday-Friday
7:00 pm-8:00 pm eastern
Be sure to join Thom in our chatroom during the program!

Our newest video is here! Watch RESTORATION - plus check out CARBON, LAST HOURS & GREEN WORLD RISING - narrated by Leonardo DiCaprio & Thom Hartmann, directed by Leila Conners
NEED TO KNOW: About That Progressive Platform... Congresswoman Barbara Lee (D-CA, 13th District)/Barbara Lee for Congress
BIG PICTURE RUMBLE:
- Charles Sauer, The Market Institute
- Alex Lawson, Social Security Works
- Crystal Wright, Con Job
BEST OF THE REST: Trump Would Be the Only World Climate Denier Leader... Michael Brune, Sierra Club
PLUS, Will Iowa Voters Choose King or a BernieCrat? Kim Weaver, Candidate for Congress (D-IA, 4th District)
...LIVE from Washington, DC starting at 7pm Eastern...
Latest From The Big Picture
57:08
Thom discusses the most progressive DNC platform in history with Rep. Barbara Lee, whether Rep. Steve King can be beat by his opponent Kim Weaver with Kim Weaver, and how a President Trump would be devastating for combating climate change with Sierra Club's Michael Brune. Tonight's Rumble talks Trump's call for Russia to hack Hillary Clinton, Trump's call of raising the minimum wage to a measly $10, and Bill O'Reilly's bizarre comments about slavery.
For more information on the stories we've covered visit our websites at thomhartmann.com - freespeech.org - and RT.com. You can also watch tonight's show on Hulu - at Hulu.com/THE BIG PICTURE and over at The Big Picture YouTube page. And - be sure to check us out on Facebook and Twitter!
Jul. 27, 2016 3:02 pm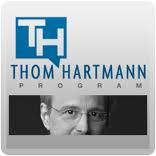 CommonDreams.org is reporting on the outrageous compensation Hedge Fund Managers are getting.

New rankings show the top 25 managers had combined earnings of $12.94 billion in 2015.