Today's Radio Show

Monday-Friday
noon-3:00 pm eastern
Tune in on satellite radio at SiriusXM Progress 127
Join Thom in our chatroom during the program!
Missed the live program?
Subscribe to Thom's podcast
Coming up today on The Thom Hartmann Program:
- Why Are We Allowing AT&T To Spy On Americans for Profit? Kenneth Lipp, Daily Beast
- Does Hillary Have Bigger Cojones Than Obama?
- Who's Buying Elections and How - Ian Vandewalker, Brennan Center
...LIVE from Washington, DC starting at 12pm Eastern...
Call in Live!
(202) 808-9925
Daily Poll
Hillary Clinton
0%
Gary Johnson
0%
Jill Stein
0%
Donald Trump
100%
Today's TV Show

Monday-Friday
7:00 pm-10:30 pm eastern
Be sure to join Thom in our chatroom during the program!

Our newest video is here! Watch RESTORATION - plus check out CARBON, LAST HOURS & GREEN WORLD RISING - narrated by Leonardo DiCaprio & Thom Hartmann, directed by Leila Conners
BIG PICTURE POLITICS PANEL: Does Hillary have More Cajones Than Obama?
- Valerie Ervin, Working Families Party
- David Ferguson, Ferguson & Associates
BIG PICTURE INTERVIEW: Trump Sending In "Citizen Journalists" To Intimidate Voters At the Polls - Greg Palast, The Best Democracy Money Can Buy/Click here for info on DC Premiere This Weekend!!
...LIVE from Washington, DC starting at 7pm Eastern...
Latest From The Big Picture
53:44
For more information on the stories we've covered visit our websites at thomhartmann.com - freespeech.org - and RT.com. You can also watch tonight's show on Hulu - at Hulu.com/THE BIG PICTURE and over at The Big Picture YouTube page. And - be sure to check us out on Facebook and Twitter!
Oct. 27, 2016 2:08 pm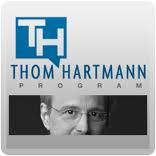 In Washington State a fierce debate has erupted over a ballot measure aimed at fighting climate change. As the reality of runaway climate change continues to sink in, the question of what do about it gets even more pressing.

We are not just dealing with the possibility of a few hotter days there - or a few nastier thunderstorms there.