Today's Radio Show

Monday-Friday
noon-3:00 pm eastern
Tune in on satellite radio at SiriusXM Progress 127
Join Thom in our chatroom during the program!
Missed the live program?
Subscribe to Thom's podcast
Coming up today on The Thom Hartmann Program - Your Home for the Resistance:
Call in Live!
(202) 808-9925
Daily Poll
No - Trump likes that....
60%
Yes - It accurately describes him...
40%
Today's TV Show

Monday-Friday
7:00 pm-10:30 pm eastern
Be sure to join Thom in our chatroom during the program!

Our newest video is here! Watch RESTORATION - plus check out CARBON, LAST HOURS & GREEN WORLD RISING - narrated by Leonardo DiCaprio & Thom Hartmann, directed by Leila Conners
THE BIG PICTURE: GOP wants medicaid to be a privilege, not a right...
BIG PICTURE PANEL: Is Net Neutrality Going Away?
- Chuck Rocha, Solidarity Strategies
- Bryan Pruitt, RedState
BIG PICTURE INTERVIEW: The Koch Brothers are Smiling... Alex Kotch PhD, Investigative Journalist
BIG PICTURE FACT: How Many Planet Earths Does the World Population Need?
...LIVE from Washington, DC starting at 7pm Eastern...
Latest From The Big Picture
11:57
Alex Lawson, Social Security Works & Valerie Ervin, Working Families Party. The campaign version of Donald Trump promised never to cut Medicaid. The presidential version of Donald Trump will almost certainly break that promise. So was ALL that populist talk just a scam?
For more information on the stories we've covered visit our websites at thomhartmann.com - freespeech.org - and RT.com. You can also watch tonight's show on Hulu - at Hulu.com/THE BIG PICTURE and over at The Big Picture YouTube page. And - be sure to check us out on Facebook and Twitter!
Jan. 24, 2017 2:21 pm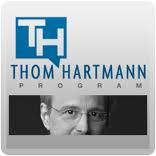 The TPP is dead - and Donald Trump killed it.

In one of his first actions as President, Donald Trump issued an executive order yesterday officially withdrawing the United States from that massive so-called free trade deal.

Speaking to reporters as he signed the order, Trump called it a win for American workers.