Today's Radio Show

Monday-Friday
noon-3:00 pm eastern
Tune in on satellite radio at SiriusXM Progress 127
Join Thom in our chatroom during the program!
Missed the live program?
Subscribe to Thom's podcast
Coming up today on The Thom Hartmann Program:
Anything Goes Friday
- The New Generation of Superbugs, Brought To Us By the Reagan Conservatives...
- Independent Reporter Alex Kotch Reveals How Arizona Became the Koch Brothers' Personal Free Market Sandbox
- Former State Senator Nina Turner (D-OH, 25th District) Joins Thom In Studio to talk Progressive Politics, Bernie Sanders, the Convention & More...
Call in Live!
(202) 536-2370
Daily Poll
Yes!
98%
No!
2%
There is no such thing as climate change...
0%
Today's TV Show

Monday-Friday
7:00 pm-8:00 pm eastern
Be sure to join Thom in our chatroom during the program!

Our newest video is here! Watch RESTORATION - plus check out CARBON, LAST HOURS & GREEN WORLD RISING - narrated by Leonardo DiCaprio & Thom Hartmann, directed by Leila Conners
CONVERSATIONS WITH GREAT MINDS: Senator Nina Turner, (former) State Senator (D-OH, 25th District)/Bernie Sanders Campaign
CONVERSATIONS WITH GREAT MINDS: John Kenneth White, What Happened to the Republican Party?: And What It Means for American Presidential Politics/Catholic University of America
...LIVE from Washington, DC starting at 7pm Eastern...
Latest From The Big Picture
12:20
Anna Kalinsky, Exxon Shareholder & Climate Activist & Evan Weber, U.S. Climate Plan joins Thom. At the company's annual shareholder meeting Wednesday - ExxonMobil shareholders voted down a plan to take on climate change. In doing so - did they doom our planet to environmental devastation?
For more information on the stories we've covered visit our websites at thomhartmann.com - freespeech.org - and RT.com. You can also watch tonight's show on Hulu - at Hulu.com/THE BIG PICTURE and over at The Big Picture YouTube page. And - be sure to check us out on Facebook and Twitter!
May. 27, 2016 12:34 pm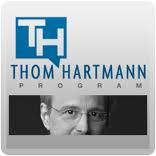 The coal country state of West Virginia is in the middle of a special legislative session to deal with a $270 million budget shortfall, and it's setting the stage for Republicans to completely gut the state's government.

It's the same playbook we've seen the right-wing carry out in Wisconsin, in Kansas, in Michigan, and in Ohio.