Today's Radio Show

Monday-Friday
noon-3:00 pm eastern
Tune in on SiriusXM's The Progress, Channel 127
Catch The Thom Hartmann Program LIVE M-F 12 noon to 3pm ET / Join Thom in our chatroom during the program!

Be sure to check out our new video: CARBON - narrated by Leonardo DiCaprio

Hour One: Mitch McConnell...BUSTED! America's Lawyer, Mike Papantonio, Ring of Fire Radio

Hour Two: What's lurking in your tuna sandwich? Peter Hanlon, Grace Communications Foundation



Talk Radio News
- Victoria Jones

Hour Three: Brunch with Bernie - Senator Bernie Sanders (I-VT) takes your calls
Call in Live!
1-866-987-THOM (8466)
1-866-745-CONS (2667)
+ 44 870 974 9686
Daily Poll
YES! Voters don't want a Koch puppet representing them.
55% (6 votes)
NO! He said nothing that would upset his radical base.
45% (5 votes)
Total votes: 11
Today's TV Show

Monday-Friday
7:00 pm-8:00 pm eastern

Be sure to check out our new video: CARBON
- narrated by Leonardo DiCaprio

NEED TO KNOW: BUSTED! Mitch McConnell's Koch problem... Mike Papantonio, America's Lawyer / Ring of Fire Radio

SCREWED: Obama: the Counterfeit Progressive? Thomas Frank, Salon / The Baffler Magazine / Pity The Billionaire
YOUR TAKE / MY TAKE
GEEKY SCIENCE: Is your laundry making you sick?
DAILY TAKE: You don't know what 'Libertarian' means...
. . . LIVE from D.C. starting at 7pm eastern
Latest From The Big Picture
58:00
Tonight's "Lone Liberal Rumble" discusses the latest police brutality video, Obama's international climate change deal sans Congress and how Obamacare premiums are dropping in Arkansas. Thom discusses the drowning of New Orleans with Investigative Journalist and Author Greg Palast and how nuclear plants near fault lines need to be shut down immediately with Beyond Nuclear's Paul Gunter. In tonight's "Daily Take" Thom details his plan to end poverty by adopting the social welfare policies of Scandinavian countries.
Aug. 28, 2014 2:34 pm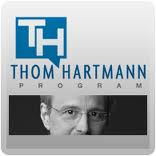 If you want to know what libertarianism is all about, don't ask a libertarian, because most of them don't know.