Today's Radio Show

Monday-Friday
noon-3:00 pm eastern
Tune in on satellite radio at SiriusXM Progress 127
Join Thom in our chatroom during the program!

Be sure to check out our new videos: CARBON & LAST HOURS
- both narrated by Leonardo DiCaprio
Hour One: Brunch With Bernie - Senator Bernie Sanders (I-VT) takes your calls
Call in Live!
1-866-987-THOM (8466)
1-866-745-CONS (2667)
+ 44 870 974 9686
Daily Poll
YES! We must prevent the spread of Ebola at all costs.
27% (6 votes)
NO! It will lead to nurses & doctors refusing to help.
73% (16 votes)
Total votes: 22
Thursday's TV Show

Monday-Friday
7:00 pm-8:00 pm eastern

Be sure to check out our new videos: CARBON, LAST HOURS & GREEN WORLD RISING - narrated by Leonardo DiCaprio
NEED TO KNOW: The Bush fear machine is baaack - America's Lawyer Mike Papantonio, Ring of Fire Radio
SCREWED: EXPOSED: GOP threatens millions of voters - Greg Palast, Al Jazeera, BBC News, The Guardian / Billionaires & Ballot Bandits
GREEN REPORT: We need a new environmentalism...NOW - James Gustave 'Gus' Speth, Angels By the River / Natural Resources Defense Council (NRDC) / World Resources Institute
YOUR TAKE / MY TAKE
DEBUT! Episode 3 - GREEN WORLD RISING
. . . LIVE from D.C. starting at 7pm eastern
Latest From The Big Picture
58:01
Thom discusses Jeb Bush's comments on Obama's handling of the Ebola situation with Attorney and Radio Host Mike Papantonio, how Jim Crow-style voter suppression has returned to America with Investigative Journalist Greg Palast and the state of environmentalism with Author and Environmentalist Gus Speth. Thom takes viewer questions and comments in "Your Take, My Take Live" and in tonight's "Green Report" we premiere "Green World Rising," the third in a series of climate change documentaries narrated by Leonardo DiCaprio and presented by Thom Hartmann.
Oct. 30, 2014 12:11 pm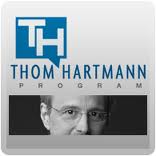 In two previous videos narrated by Leonard DiCaprio and available over at GreenWorldRising.org, we've seen the dangers that global warming and climate change present for our planet and the human race.