Tuesday's Radio Show

Monday-Friday
noon-3:00 pm eastern
Tune in on satellite radio at SiriusXM Progress 127
Join Thom in our chatroom during the program!
Missed the live program?
Subscribe to Thom's podcast
Coming up today on The Thom Hartmann Program - Your Home for the Resistance:
- GOP Has Their Panties in A Wad Over Planned Parenthood - Austin Petersen, Former Libertarian Candidate for President Vs Thom
- GOP & SCOTUS Eroding Separation of Church & State - Rev. Barry W. Lynn, Americans United for Separation of Church & State
- Our New Economy of Death Brought To You By Our Corporatized Congress
- If Government Can't Restrain Billionaires - Who Can? Richard Manning, Americans for Limited Government
...LIVE from Washington, DC starting at 12pm Eastern...
Call in Live!
(202) 808-9925
Daily Poll
Yes! The GOP Is Mean Enough...
35%
No! Some Far Right Senators Don't Think It's Mean Enough
65%
Tuesday's TV Show

Monday-Friday
7:00 pm-10:30 pm eastern
Be sure to join Thom in our chatroom during the program!

Our newest video is here! Watch RESTORATION - plus check out CARBON, LAST HOURS & GREEN WORLD RISING - narrated by Leonardo DiCaprio & Thom Hartmann, directed by Leila Conners
THE BIG PICTURE: Dr. Richard Wolff - America's Economy of Death Exposed…
BIG PICTURE INTERVIEW: Dr. Richard Wolff-You Didn't Do This Alone - Economist Dr. Richard Wolff, Capitalism's Crisis Deepens: Essays on the Global Economic Meltdown/Democracy At Work
BIG PICTURE PANEL: GOP TrumpCare Will Kill 29,000
- Sam Sacks, The District Sentinel News Co-op
- Bryan Pruitt, RedState
…LIVE from Washington, DC starting at 7pm Eastern…
Latest From The Big Picture
28:02
On tonight's Big Picture, Thom talks with Dr. Richard Wolff about how the GOP's health bill could kill 29,000 Americans in the next decade if implemented. Then he talks with Sam Sacks and Bryan Pruitt on their take of the health bill as members of the GOP oppose it causing a vote delay in congress, the return of camera-shy Sean Spicer to the visual press scene and the white house's plan to defund an counter-white supremacy program .
For more information on the stories we've covered visit our websites at thomhartmann.com - freespeech.org - and RT.com. You can also watch tonight's show on Hulu - at Hulu.com/THE BIG PICTURE and over at The Big Picture YouTube page. And - be sure to check us out on Facebook and Twitter!
Jun. 27, 2017 3:07 pm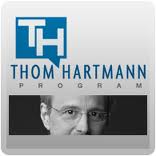 The Congressional Budget Office has released its score of the Senate Republican healthcare bill.

According to the CBO, the so-called Better Care Reconciliation Act would cause 22 million people to lose their health insurance.

Which - when you really think about it - is pretty weird.