Oct. 31, 2007 7:32 pm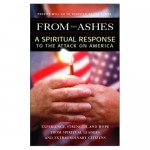 A Spiritual Response to 9/11
Buy it from Amazon: Audio Cassette | Hardcover
From Publishers Weekly
From the Ashes: A Spiritual Response to the Attack on America by various authors, multi-voice reading. Religious and spiritual leaders including Rev. Billy Graham and Desmond Tutu contributed essays, statements, poems and letters to this encouraging collection.
Copyright 2001 Cahners Business Information, Inc.
Amazon.com
From the Ashes is a hardbound testimonial to two enduring sources of comfort in times of grief: the word and the spirit. After the September 11 attack on the United States, poetry was suddenly heard everywhere--from memorial services to the network news. Meanwhile, churches reported an enormous increase in attendance. In this outstanding collection of essays, the world's spiritual leaders blend their poetic words with their indestructible spirits to offer Americans solace. Collected by the editors of Beliefnet, a multifaith Internet site, these essays represent a multitude of spiritual traditions. Vietnamese monk Thich Nhat Hanh answers the question, "What I would say to Osama bin Laden." The Reverend Billy Graham speaks to "The Mystery of Evil." Religious scholar Karen Armstrong asks, "Is Islam Violent?" and Wiccan Starhawk ponders, "What would the Goddess do?"