The Greatest Spiritual Secret of the Century
Nov. 1, 2007 6:27 pm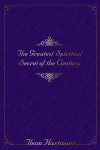 Buy it from Amazon: English | German
Click here to read the first two chapters of the book
While Thom's nonfiction books are about spirituality in action, he also found that many people love to read a good story.
The Greatest Spiritual Secret of the Century. It's an adventure, a love story, and a look into the history of our modern culture and religions...filled with ancient secrets for modern mystics.
Decades ago, the late Og Mandino perfected the art of revealing profound spiritual truths in the form of the short novel, with his books The Greatest Salesman in the World, and The Greatest Story Ever Told. Respectfully honoring Og's tradition, Thom Hartmann brings to the world The Greatest Spiritual Secret of the Century.
When Paul Abler, a young New York newspaper reporter, decided on an impulse to risk his own life to save that of a little girl, he had no idea it would thrust him into a world of angels, shapeshifters, gods, and goddesses.
But from the ancient city of Nippur, to the timeless moment of the universe's creation, to the echoing tunnels under Manhattan where the homeless hide out from the city's police, Paul learns one amazing spiritual truth after another. Until finally, as he finds the first true love of his life, he also unearths the Greatest Spiritual Secret of the Century.
"Thom Hartmann has a capacity in his writing to go to the essence of things, and that's what he does in this little gem. He does so with power and beauty. The Greatest Spiritual Secret concerns the open secret of the divine-human interaction, and how all of life and reality are grounded in infinite love. More than that, it's about the liberation and transformation that come if we trust in and surrender to this Love."
- Brother Wayne Teasdale, author, The Mystic Heart
"Finally the brilliant minds of our times are penetrating the secret spiritual teachings and bringing them alive to our generation in new form. Thom Hartmann's work is a small masterpiece in the new genre of spiritual fiction."
- Barbara Marx Hubbard, author, Conscious Evolution
"A most precious and special novel that brings spiritual insights to us in an insightful and entertaining manner."
- Gerald G. Jampolsky, M.D., author, Forgiveness