What Would Jefferson Do?
Nov. 2, 2007 10:36 am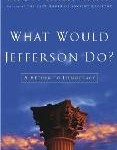 A Return to Democracy
Click here to buy it from amazon.com
Based on four years of detailed reading of Jefferson's personal correspondences and writings, a clear vision of the Founders and Framers emerges.
Thom puts this vision into a solid historical context, then projects into our own time to ask - and answer - numerous questions about how this most brilliant thinker of his day would respond to the challenges of the 21st Century.