The Hidden History of Guns and the 2nd Amendment Book Tour Is Coming...

Thursday, June 6: NEW YORK, NY

7:30pm

Location: The Strand (2nd floor), 828 Broadway, NYC

Monday, June 10: WASHINGTON, DC 6:30pm

Location: Busboys and Poets, 450 K St NW, Washington, DC

Wednesday, June 12: PORTLAND, OR 7:30pm

Location: Powell's, 1005 W Burnside St., Portland

Sunday, June 23: SEATTLE, WA 7:30pm

Location: Town Hall, 1119 8th Ave, Seattle (West Entrance) w/Elliott Bay Book Company

Tuesday, June 25: SAN FRANCISCO, CA 7:00pm

Location: First Church, 2345 Channing Way, Berkeley w/The Booksmith

Friday, June 28: CHICAGO, IL 7:00pm

Location: Frugal Muse, 7511 Lemont Rd. #146 (Chestnut Court Shopping Center), Darien

Saturday, June 29: MINNEAPOLIS, MN 7:00pm

Location: Common Good Books, 38 S. Snelling Ave, St. Paul

Become a Thom Supporter- Click the Patreon button
Have we officially returned to when the Robber Barons ruled?

Mar. 24, 2011 9:29 am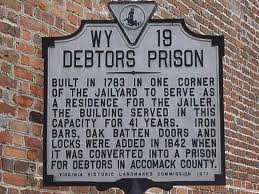 We know that millions around the nation have been screwed over by predatory lenders and fine print credit card contracts – and now are swimming in debt. But can you believe that some of these people are actually being thrown in prison for going into debt? That's right – American in the 21st century is bringing back debtors' prisons. People who can't pay off their credit cards can be thrown in jail in a third of the states in our nation – and since the start of 2010 – over 5,000 arrest warrants have been issued against people who owe as little as $1,000 to massively profitable corporations like Capital One.
So let me get this straight – a few years after the financial crisis where massive fraud was perpetrated by Wall Street – not one bankster is in jail – but 5,000 low or middle-class Americans who were screwed over by these banksters were sent to debtor's prison??
It's official - Republicans have set our country back more than 100 years – to the 1800's – when the Robber Barons ruled and our politics were corrupted to the core.