July 11-13: At Netroots Nation

The Hidden History of Guns and the 2nd Amendment Book Tour Is Coming...
Thursday, June 6: NEW YORK, NY

7:30pm
Location: The Strand (2nd floor), 828 Broadway, NYC
Monday, June 10: WASHINGTON, DC

6:30pm
Location: Busboys and Poets, 450 K St NW, Washington, DC
Wednesday, June 12: PORTLAND, OR

7:30pm
Location: Powell's, 1005 W Burnside St., Portland
Sunday, June 23: SEATTLE, WA

7:30pm
Location: Town Hall, 1119 8th Ave, Seattle (West Entrance) w/Elliott Bay Book Company
Tuesday, June 25: SAN FRANCISCO, CA

7:00pm
Location: First Church, 2345 Channing Way, Berkeley w/The Booksmith
Friday, June 28: CHICAGO, IL

7:00pm
Location: Frugal Muse, 7511 Lemont Rd. #146 (Chestnut Court Shopping Center), Darien
Saturday, June 29: MINNEAPOLIS, MN

7:00pm
Location: Common Good Books, 38 S. Snelling Ave, St. Paul
Friday, July 12: Philadelphia, PA 4:15pm - At Netroots Nation
Location: PA Convention Center, 1101 Arch Street, Philadelphia, PA
Become a Thom Supporter- Click the Patreon button
The Oligarchs are Plotting the Weekend...

Jun. 22, 2012 11:15 am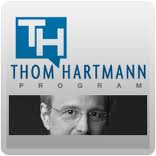 The oligarchs are meeting this weekend to plot how they're going to buy the elections this year. First, Mitt Romney will be hosting a three-day retreat in Utah over the weekend with about 600 hundreds of his biggest fundraisers. Romney is coming off a good fundraising month in May where his camp outraised the Obama camp $78 million to $60 million. But the real plans to buy the election are being made in California – not Utah. In San Diego this weekend, the Koch brothers are hosing their annual political convention aimed at raising nearly a half billion dollars this election to elect corporate Republicans and defeat Progressives.
That means – between now and November – over a billion dollars in negative ads attacking President Obama and Progressives will flood the airwaves – making corporate media outlets very rich, and poisoning public debate across America. We're entering a whole new era in American politics thanks to the Supreme Court.