Vulture capitalists are trying to take over life's most precious resource...

Aug. 23, 2012 9:29 am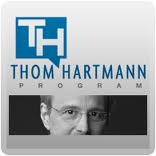 Water. According to a new report by Food & Water Watch, a growing number of pirate equity firms are moving into struggling cities and buying out their public infrastructure – namely – the city's water infrastructure. Anyone who is familiar with Mitt Romney – is familiar with pirate equity firms like Bain Capital – which take over a company – strip it to the bones – and sell it off for a profit.

When this strategy is used on public utilities – then consumers get screwed with insufficient services and price hikes. As Food & Water Watch executive director Wenonah Hauter warned, "Like Wall Street's manipulation of the housing market in the previous decade, private equity firms and investment bankers are increasingly looking to cash in on one of our most essential resources—water.

These deals are ultimately bad for U.S. citizens, who will end up paying the price through increased water bills and degraded service." As of January 2012, pirate equity firms raised nearly $200 billion to take over nearly 300 water infrastructure units. This is just the latest consequence of corporate capitalism run amok in America.

We are no longer manufacturing wealth together as a nation for our economy. We now have Wall Street preying on the rest of us to make a buck.