Mar. 21, 2013 9:26 am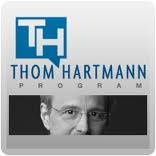 Despite gridlock in Washington, a new effort to loosen Wall Street regulations and water down the 2010 Dodd Frank Act is getting bipartisan support in Congress. Republican Representatives Patrick Henry and Scott Garrett are backing the measure, as is Democratic Rep. Gwen Moore. Moore justified her support by saying the plan is only meant to relieve regulatory burdens on companies that do business with big banks. Another democrat, Representative Jim Himes, even wants to roll-back Dodd Frank, and stick taxpayers with the bill, should the derivative market implode again.

But some Democrats still understand the dangers of banks-gone-wild, and are fighting for tougher regulations to protect us all. Less than a week ago, Senator Carl Levin issued a scathing report on the devastation JP Morgan caused with risky multibillion-dollar derivative trades. Levin said, "It is incredible that less than a week after new JPMorgan Whale hearings detailed how the bank's London office piled up risk, hid losses, and dodged regulatory oversight, that some House members are again supporting the weakening of derivative safegaurds."

It's only been five years since the banksters crashed our economy by gambling with derivatives, and the modest legislation we've enacted is meant to prevent another economic meltdown. Representative Alan Grayson, a leading voice for financial reform, criticized his colleagues for considering putting our nation at risk again. He said, "the road to hell is paved with these bills."

We should be strengthening regulations on Wall Street, not giving banksters another free pass to gamble with our economic future. Call Congress today and tell them they must stop the next derivatives debacle before it's too late.