Activism Started with Tim Carpenter - Now It's Your Turn
Apr. 29, 2014 11:53 am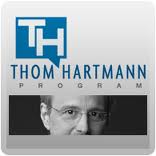 The Progressive movement in America has lost one of its greatest fighters. Each night when I close "The Big Picture," I tell you that democracy begins with you, and encourage you to get out there and get active. Tim Carpenter was the living embodiment of those words. Yesterday, Carpenter, co-founder of the Progressive Democrats of America and a tireless political and social activist, passed away after a long and courageous battle with cancer. He was only 55-years-old, and leaves behind his wife, Barbara, and two daughters.
Tim was a graduate of Cal State Fullerton University, where he earned Bachelors Degrees in History and Political Science, and a Masters Degree in History. After leaving CSUF, Tim went on to teach U.S. History and Government at the high school and community college levels in California. Tim played a central role on the Rev. Jesse Jackson presidential campaign in 1988, and again played a key role on Governor Jerry Brown's 1992 presidential bid campaign.
That same year, he was a DNC delegate, and even addressed the Democratic National Convention. Tim was also the Deputy National Campaign Manager for the 2004 Kucinich for President campaign. In 2007, Tim was honored as "Progressive Activist of the Year" by The Nation Magazine.
During the 2004 Democratic National Convention, Tim helped found the Progressive Democrats of America. His unique "inside-outside" strategy helped to grow the influence of PDA, on the streets and at the ballot box. Since then Tim, and PDA, have fought tirelessly to strengthen the voice of progressive ideas both inside and outside of the Democratic Party.
PDA strongly opposed wars and occupations, and fought for political and diplomatic solutions to global crises, and promoted nuclear disarmament and a cutback in wasteful military spending. The group has also played a major role in the fight for healthcare for all Americans. Tim worked for an improved Medicare for All national healthcare program, and had his sights ultimately set on a single-payer health care system.
He also spent a lot of his time fighting for social and economic justice. PDA pushed for a rollback of George W. Bush's tax cuts, while encouraging progressive taxation policies, and an end to so-called free-trade deals that devastate American workers and the economy. Meanwhile, PDA has also fought for comprehensive election reform in America, including things like restoring voting rights for convicts, ending the use of privatized electronic voting machines, and stopping nationwide voter suppression efforts.
Tim and PDA have also done a lot in the fight to save our planet, and the human race, from the devastating effects of climate change. PDA supports a carbon tax, and support policies to protect Americans from the dangerous effects of "fracking" while fighting for a cleaner and greener America. Tim Carpenter spent over 35 years fighting for the American people and for an America that worked for everyone.
As Congressman Jim McGovern put it, "He was a passionate fighter for peace and justice and all causes that are good. He was a remarkable person with a spine of steel and a heart of gold." And when President Obama learned Tim was sick, he sent a handwritten note cheering him on and saying how important and his activism has been for our nation.
While Tim may be gone, both PDA and his legacy of tirelessly fighting for social and political change will live on. Democracy begins with all of us, as Tim's life so vividly shows us. Now, it's time for all of us – and that means you, too! – to hop on board, get over to PDAmerica.org or any other activist group of your choice, and get active.
Tag – you're it.