What Happens When Big Business Takes Over Government
Feb. 19, 2015 1:13 pm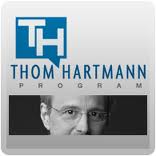 What happens when an industry sets out to take over a government? Just ask the good citizens of Canada.

This past weekend, a train carrying an unknown amount of crude oil derailed in northern Ontario, Canada, spilling oil and causing a large fire. Twenty-nine of the train's 100 cars derailed and at least 7 caught on fire.

Canada's CBC network is reporting that an "unknown amount" of oil spilled from the cars.

The Ontario derailment and spill comes almost two years after the deadly oil train derailment and explosion in Lac-Megantic, Quebec, which killed 47 people and destroyed that town's center.

In part - because of these oil train disasters - Canadian citizens are pushing more and more for that nation to end its toxic addiction to fossil fuels, and to instead turn to cleaner and greener forms of energy.

Those citizens, however, and their protest efforts, have now attracted the attention of the Royal Canadian Mounted Police.

As a result of that going public, an intelligence report released by the RCMP on the growing environmental movement in Canada is gaining a lot of attention – and criticism.

The report specifically looked into Canada's growing fossil fuel industry, and its opposition.

Critics of the report have highlighted several flaws with its findings and construction.

For example, it downplays things like the relationship between greenhouse gases and global warming, and relies on newspaper opinion columnists for intel and information.

The RCMP report also claims that there's, "a growing, highly organized and well-financed anti-Canada petroleum movement."

But, the most disturbing thing to come out of the report is the apparent RCMP labeling of environmentalists and activists as "militants and violent extremists" who are part of the "anti-petroleum movement."

The report also links well-known Canadian environmental and activist groups, "to growing militancy in the 'anti-petroleum movement'."

In a statement made to The Globe and Mail newspaper about the report, the RCMP said that, "there is no focus on environmental groups, but rather on the broader criminal threats to Canada's critical infrastructure."

But that statement aside, why would the RCMP go out of its way to seemingly label peaceful activists and environmentalists who are against more oil and gas drilling as "militants and violent extremists" who are part of "a growing militancy"?

Well, as PressProgress points out, the conservative Stephen Harper-led Canadian government, "already has a proven track record for gathering intelligence on opponents of the oil sands."

For example, according to Canadian government records, back in 2011 the Harper administration and Canada's top spy agency held a national security briefing for Canada's energy companies on the "challenges" created by environmental groups.

Sounds a lot like how our FBI treats environmental groups like Greenpeace and Earthfirst as groups that might pose some kind of marginal threat.

And that's because, much like our government, many of Canada's politicians are completely in bed with Big Oil and the fossil fuel industry.

Stephen Harper's government is filled with ex-Big Oil guys, and his campaigns have allegedly benefited from millions of dollars in Big Oil donations.

So, it seems logical that Harper's government would bend over backwards and do everything in its power to make its Big Oil backers happy, even if that means labeling perfectly peaceful environmentalists and activists as "militants" and "violent extremists.'

What's going on in Canada right now is a perfect example of what US Vice President Henry Wallace warned us about in 1944.

Rich capitalists are taking over the government and combining the powers of the market and the state, so that they can destroy any chance that democracy can regulate them.

And, at the same time, they're using the apparatus of state oppression to silence those who might threaten the corporate state and its quest for more power and money.

Sure, there might be a few fringe environmental groups in Canada that have discussed or used violence to achieve their goals, but what the RCMP report is really about is demonizing anyone who might prevent Big Oil from making money and growing the corporate state in Canada. It's really that simple.