Trump Is Going Back On His NAFTA Promise
Apr. 28, 2017 2:42 pm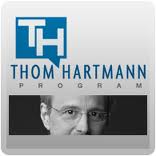 Donald Trump won't be pulling the US out of NAFTA - at least not immediately.

But he's still permanently changed the debate about trade in America.

Donald Trump said yesterday that after speaking with the President of Mexico and the Prime Minister of Canada, he's decided not to immediately pull the US out of NAFTA.

Instead, he'll trying to renegotiate that massive job-killing so-called free trade deal.
" I've decided rather than terminating NAFTA - which would be a pretty big, you know, shock to the system - we will renegotiate. Now, if I'm unable to make a fair deal, if I'm unable to make a fair deal for the United States, meaning a fair deal for our workers and our companies, I will terminate NAFTA. But we're going to give renegotiation a good, strong shot."
Renegotiating or withdrawing from NAFTA was always a Democratic position. How did it become a Republican one? Can we just credit it to Trump?

Trade arguably played a pivotal role in helping Trump win Rust Belt states like Michigan and Wisconsin. If he makes any sort of progress on this issue, are Democrats in danger of being outflanked on populism?