The Hidden History of Guns and the 2nd Amendment Book Tour Is Coming...

Thursday, June 6: NEW YORK, NY

7:30pm

Location: The Strand (2nd floor), 828 Broadway, NYC

Monday, June 10: WASHINGTON, DC 6:30pm

Location: Busboys and Poets, 450 K St NW, Washington, DC

Wednesday, June 12: PORTLAND, OR 7:30pm

Location: Powell's, 1005 W Burnside St., Portland

Sunday, June 23: SEATTLE, WA 7:30pm

Location: Town Hall, 1119 8th Ave, Seattle (West Entrance) w/Elliott Bay Book Company

Tuesday, June 25: SAN FRANCISCO, CA 7:00pm

Location: First Church, 2345 Channing Way, Berkeley w/The Booksmith

Friday, June 28: CHICAGO, IL 7:00pm

Location: Frugal Muse, 7511 Lemont Rd. #146 (Chestnut Court Shopping Center), Darien

Saturday, June 29: MINNEAPOLIS, MN 7:00pm

Location: Common Good Books, 38 S. Snelling Ave, St. Paul

Become a Thom Supporter- Click the Patreon button
How Do We End the War In Afghanistan?
Aug. 31, 2017 3:01 pm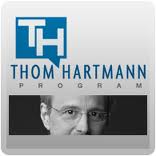 Is Donald Trump aiming for victory in Afghanistan - or permanent military occupation?

Last week Donald Trump announced what he said was a major shift in US policy towards Afghanistan.

His plan is short on details, but it will almost certainly involve sending thousands more American troops to fight in an occupation that is now well into its 16th year.

The new strategy - he said - won't be nation-building - but "fighting to win" and "killing terrorists.'

National Security HR McMaster summarized this strategy during a White House press conference:
"Winning in Afghanistan is really aimed at allowing Afghanistan to be Afghanistan. As the president said, not to nation-build, not to create a state in the U.S. image."
To me, that sounds less like a strategy for victory than a justification for a permanent occupation.

Trump - of course - says his administration's strategy will lead to victory in Afghanistan.

But is real victory even possible at this point?

Or - to borrow a phrase from George W. Bush - is it time to cut and run?