Is Trump the #1 Threat To World Security?
Aug. 9, 2017 2:46 pm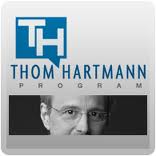 Tensions with North Korea are now kicking into overdrive.

Donald Trump is now threatening North Korea with virtual annihilation after the country took a big step forward in its nuclear program.

Is the President of the United States now the number one threat to world security?

According to a blockbuster report in the Washington Post yesterday, U.S. intelligence agencies now believe "North Korea has successfully produced a miniaturized nuclear warhead that can fit inside its missiles."

Donald Trump's response to this news was predictably measured and responsible.
"North Korea best not make any more threats to the United States. They will be met with fire and fury like the world has never seen... he has been very threatening beyond a normal state. And as I said, they will be met with fire, fury and frankly power the likes of which this world has never seen before"
So is Donald Trump threatening nuclear holocaust?

And as wild and unstable as Donald Trump seems - should we be more worried about the possibility of a President Mike Pence?