WHY I AM ASKING FOR YOUR SUPPORT AT PATREON?
Your support of the program is invaluable. Producing the Thom Hartmann Program is a labor of love for the team, but doesn't come without cost. We supply the program to non-profit, community and volunteer radio and cable stations across the US. However, this isn't cost-free and being a supporter through Patreon means you can help us to meet some of the bills, to allow us to continue free supply to the non-profit sector.
As a way of saying thank you, we would like to give you something back for your support at various levels. Every weekday, the live Thom Hartmann Program three hour program is recorded exclusively for Patreon supporters. Unedited, the full three-hour video will be right here on the Patreon page, within a couple of hours of the end of the live program. And we're also providing extra videos exclusive to sponsors.
Sponsor Special: How to Stop Your Food From Killing You. The American diet is now killing more people than high blood pressure and smoking
Become a Thom Supporter- Click the Patreon button
Conservatives supposedly hate freeloading. So why are they trying to legalize it?
Oct. 17, 2017 2:43 pm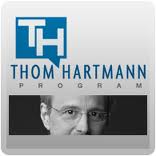 Conservatives supposedly hate freeloaders.

So why do they support right to work laws - which literally legalize freeloading?

Our nation's nine unelected monarchs on the Supreme Court are poised to deal yet another blow to organized labor.

Recently they agreed to hear the case of Janus v. AFSCME, which challenges an Illinois law that requires public sector workers to pay what are known as "agency fees".

Agency fee laws are essentially a check against freeloading.

All workers who work in a union shop have to pay them -- even if they don't belong to the union -- to help cover the cost of the collective bargaining agreement that the union negotiates on their behalf.

Workers in states with right-to-work laws make around $6,000 less per year than workers in states that defend unions.

I thought conservatives were against freeloading.

Why are they trying to legalize it in Illinois?