Jan. 1, 2016 6:10 pm
2015 saw extreme drought, floods and warming. Record December temperatures and an El Niño event make a cooler or calmer 2016 unlikely. Yet the most serious threat is scarcely being talked about...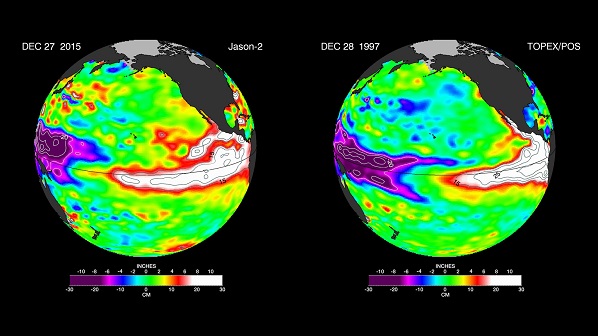 Pacific sea surface heights showing El Niño. Credit: NASA/JPL-Caltech
In 2015 California experienced its worst drought in 500 years. In December there was major flooding from Great Britain to Missouri and Illinois. Iceland has also been battered. Indonesia saw less rain than usual, contributing to major forest fires.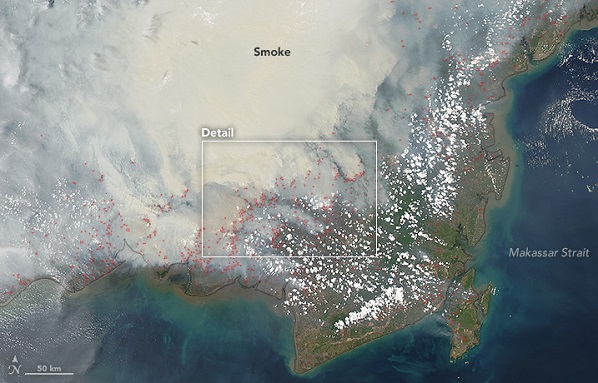 Heavy Smoke Blankets Borneo. Credits: NASA image Jeff Schmaltz (LANCE MODIS Rapid Response) and Adam Voiland (NASA Earth Observatory).
The weather is not entirely to blame for the devastation however. Our actions, and failures to act, have made us more prone to floods. Growing the wrong crops have made us more vulnerable to drought, as has overgrazing. And of course, there are simply more of us, and the news spreads faster and more widely. Yet it seems that it takes a major flood before action is taken, as it was after the flood of Boscastle in the UK 11 years ago.
It's not just the UK that was unseasonably warm in December 2015. The Arctic was too. The weather is being linked to climate change as well as the usual El Niño cycle.
The UK Met office predicts that 2016 will be one of the warmest years on record, the third in a row. Depending on where you live, this may mean more droughts and forest fires, or more above average storms and flooding. NOAA is predicting that the southern United States will be cooler and wetter, while the northern United States will be warmer and dried in 2016. The 2016 El Niño is predicted to rival that of 1997-98
Even if where you live does not experience extreme weather, you could be affected by higher prices for food produced in areas which are. Food shortages are expected to peak in February in Africa, threatening millions with hunger.
So, 2016 will likely see a rise in temperatures, droughts and storms - more than enough for us to take global warming seriously, and for our insurers to jack up their prices. And yet, there is a potentially much more dangerous result of the warming temperatures that is rarely spoken about.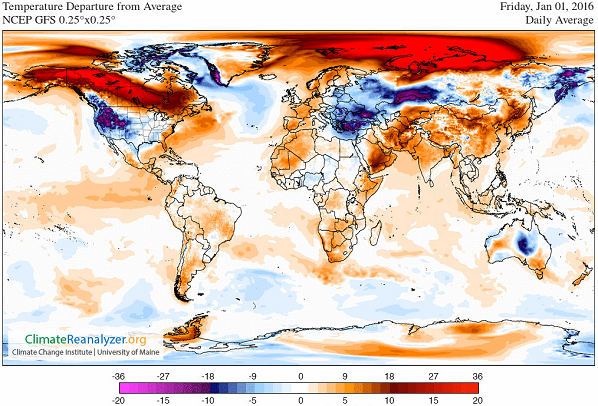 Image obtained using Climate Reanalyzer, Climate Change Institute, University of Maine, USA: generated from the NCEP Global Forecast System (GFS) model.
As Sam Carana points out over at Arctic News, not only is the Arctic unusually warm and likely to remain so for a while, but the Gulf Stream is also warmer and it is pushing warmer water up to the North Atlantic. It is unable to evaporate because melt water pouring off Greenland has formed a cold "freshwater lid" at the surface of the ocean. So it warms the water underneath the lid. If it warms the lower water in the Arctic Ocean enough, it could release the methane trapped in clathrate deposits at the bottom of the ocean. Methane is a much more powerful greenhouse gas than carbon dioxide, and if large amounts are released, it could considerably accelerate global warming, and then our troubles would really begin.
For more information see Sam Carana's article and the video Last Hours narrated by Leonard DiCaprio.
And if you make just one new year's resolution this year, please make it one to do your bit to fight global warming.
Further links...
DROUGHT: 2015 water year is hottest and driest on record by Janet Zimmerman.
Just How Hot Will 2016 Be? UK Met Office Forecasts Record-Breaking Global Temperatures by Kyla Mandel.
Storm Frank to bring more heavy rain to north and west UK by Caroline Davies
Properties need to be waterproofed against flooding, Environment Agency warns – audio by BBC Radio.
Met Office forecasts 2016 to be hottest year on record by Robert McSweeney.
North pole could be 35C warmer than average this week, warn meteorologists by David Batty.
Global warming rapidly melts massive Greenland glacier by Doyle Rice.
Freak storm pushes North Pole 50 degrees above normal to melting point by Angela Fritz.
Climate Chart of the Year? Record Heat, Of Course by Brian Kahn.
What's been happening to our weather? by Met Office.
Climate Chaos, Across the Map by Justin Gillis.
Record-Breaking Rainfall And UK Floods Are A Result Of Climate Change, Say Scientists by Tom Chivers.
Will Britain See More Extreme Weather Incidents Like Storm Desmond? by VICE.