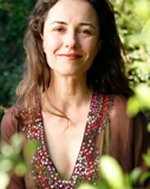 Leila Conners founded Tree Media Group in August of 1996. With a background in international politics, Leila set out to build a production company that creates media to support and sustain civil society by telling inspiring stories.
Currently, Leila is writing and directing her next feature film, Into Eden, about how we can change our society and ourselves in the face of disintegrative forces that threaten everything from the biosphere to our economic system. Leila is also currently producing a documentary film on the explosion of urban farming in Detroit called Urban Roots.

Leila's first feature-length documentary, The 11th Hour, was co-created with Leonardo DiCaprio. The film included 54 leading thinkers and scientists about the state of the world and the state of the human condition.
She has written 2 short films with Leonardo DiCaprio on the environment called Global Warning and Water Planet and a feature film script for Ridley Scotts Scott Free Productions on the state of the oceans. Leila has also been published in newspapers and magazines around the world including the International Herald Tribune, Los Angeles Times, Yomiuri Shimbun and Wired Magazine among others. Projects over the last 10 years with Tree Media Group include work with the Council on Foreign Relations, NASA, JPL, Norman Lear, Green Cross International, Harvard University, and Hollywood studios among others. Her article on "Death and American Culture" was published in War, Media and Propaganda, published by Rowman and Littlefield.
Prior to Tree Media, Leila was Associate Editor of NPQ/New Perspectives Quarterly, an international journal of social and political thought, and Associate Editor of Global Viewpoint of the Los Angeles Times Syndicate, an internationally distributed op-ed column that reaches 200 papers. At NPQ, she interviewed thinkers and policy makers including: Kofi Annan, Nafis Sadik, Betty Friedan, Hans Bethe, Rigoberta Menchu Tum, Boutros Boutros Ghali among others. She is now Editor-at-Large for NPQ.
In 1991, Leila translated Jacques Attali's book from the French for Random House entitled, Millennium. Leila is a life member of the Council on Foreign Relations. She is also a member of the Writers Guild of America (WGAW) and serves on the Entertainment Board for One Voice, a middle east peace project. Leila is often invited to speak on issues of sustainability and the environment and has served on panels nationally and internationally.
Leila lives in Santa Monica with her sons Aidan Michael, Francis Sky and partner Mathew Schmid.
More on Leila Conners