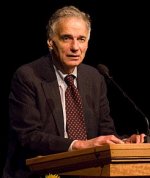 Ralph Nader is an American attorney, author, lecturer, political activist, and four-time candidate for President of the United States, having run as a Green Party candidate in 1996 and 2000, and as an independent candidate in 2004 and 2008.

Areas of particular concern to Nader include consumer protection, humanitarianism, environmentalism, and democratic government.

Nader came to prominence after publishing his book Unsafe At Any Speed, a critique of the safety record of the Chevrolet Corvair automobile. In 1999, an NYU panel of journalists ranked Unsafe At Any Speed 38th among the top 100 pieces of journalism of the 20th century.

In 1990, Life magazine named Nader one of the 100 most influential Americans of the 20th century.
His recent book is Only the Super-Rich Can Save Us.

Nader was born in Winsted, CT.

More on Ralph Nader





More people