YES! They're talking to the same people who lied us into war in '03.
63%
YES! But the independent & alternative media is speaking loudly.
37%
Asked on Jun. 23, 2014 10:34 am

Mar. 13, 2021 10:25 am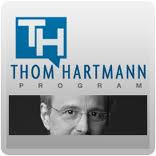 Hello All
Today, we are closing Thom's blog in this space and moving to a new home.
Please follow us across to hartmannreport.com - this will be the only place going forward to read Thom's blog posts and articles.
Images of Thom
From The Thom Hartmann Reader:
"Thom Hartmann is a literary descendent of Ben Franklin and Tom Paine. His unflinching observations and deep passion inspire us to explore contemporary culture, politics, and economics; challenge us to face the facts of the societies we are creating; and empower us to demand a better world for our children and grandchildren."
—
John Perkins
,
author of the New York Times bestselling book Confessions of an Economic Hit Man
From The Thom Hartmann Reader:
"In an age rife with media-inspired confusion and political cowardice, we yearn for a decent, caring, deeply human soul whose grasp of the problems confronting us provides a light by which we can make our way through the quagmire of lies, distortions, pandering, and hollow self-puffery that strips the American Dream of its promise. How lucky we are, then, to have access to the wit, wisdom, and willingness of Thom Hartmann, who shares with us here that very light, grown out of his own life experience."
—
Mike Farrell
,
actor, political activist, and author of Just Call Me Mike and Of Mule and Man
From The Thom Hartmann Reader:
"Thom Hartmann channels the best of the American Founders with voice and pen. His deep attachment to a democratic civil society is just the medicine America needs."
—
Tom Hayden
,
author of The Long Sixties and director, Peace and Justice Resource Center.
Thom Hartmann Newsletter
Don't miss out again. Receive our daily rundown of news, show highlights and random musings.
© 2022 Mythical Intelligence, inc.
Drupal site designed and developed by
HollyIT