THOM HARTMANN PROGRAM

Radio Show






We are not carried by any FM or AM stations in NewOklahoma.





Ask your local station to add the program and be the first










Mar. 13, 2021 11:25 am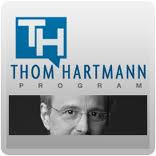 Hello All
Today, we are closing Thom's blog in this space and moving to a new home.
Please follow us across to hartmannreport.com - this will be the only place going forward to read Thom's blog posts and articles.
Images of Thom
From The Thom Hartmann Reader:
"With the ever-growing influence of corporate CEOs and their right-wing allies in all aspects of American life, Hartmann's work is more relevant than ever. Throughout his career, Hartmann has spoken compellingly about the value of people-centered democracy and the challenges that millions of ordinary Americans face today as a result of a dogma dedicated to putting profit above all else. This collection is a rousing call for Americans to work together and put people first again."
—
Richard Trumka
,
President, AFL-CIO
From The Thom Hartmann Reader:
"In an age rife with media-inspired confusion and political cowardice, we yearn for a decent, caring, deeply human soul whose grasp of the problems confronting us provides a light by which we can make our way through the quagmire of lies, distortions, pandering, and hollow self-puffery that strips the American Dream of its promise. How lucky we are, then, to have access to the wit, wisdom, and willingness of Thom Hartmann, who shares with us here that very light, grown out of his own life experience."
—
Mike Farrell
,
actor, political activist, and author of Just Call Me Mike and Of Mule and Man
From The Thom Hartmann Reader:
"Thom Hartmann is a creative thinker and committed small-d democrat. He has dealt with a wide range of topics throughout his life, and this book provides an excellent cross section. The Thom Hartmann Reader will make people both angry and motivated to act."
—
Dean Baker
,
economist and author of Plunder and Blunder, False Profits, and Taking Economics Seriously
Thom Hartmann Newsletter
Don't miss out again. Receive our daily rundown of news, show highlights and random musings.
© 2022 Mythical Intelligence, inc.
Drupal site designed and developed by
HollyIT