July 11-13: At Netroots Nation

The Hidden History of Guns and the 2nd Amendment Book Tour Is Coming...
Thursday, June 6: NEW YORK, NY

7:30pm
Location: The Strand (2nd floor), 828 Broadway, NYC
Monday, June 10: WASHINGTON, DC

6:30pm
Location: Busboys and Poets, 450 K St NW, Washington, DC
Wednesday, June 12: PORTLAND, OR

7:30pm
Location: Powell's, 1005 W Burnside St., Portland
Sunday, June 23: SEATTLE, WA

7:30pm
Location: Town Hall, 1119 8th Ave, Seattle (West Entrance) w/Elliott Bay Book Company
Tuesday, June 25: SAN FRANCISCO, CA

7:00pm
Location: First Church, 2345 Channing Way, Berkeley w/The Booksmith
Friday, June 28: CHICAGO, IL

7:00pm
Location: Frugal Muse, 7511 Lemont Rd. #146 (Chestnut Court Shopping Center), Darien
Saturday, June 29: MINNEAPOLIS, MN

7:00pm
Location: Common Good Books, 38 S. Snelling Ave, St. Paul
Friday, July 12: Philadelphia, PA 4:15pm - At Netroots Nation
Location: PA Convention Center, 1101 Arch Street, Philadelphia, PA
Become a Thom Supporter- Click the Patreon button
Climate Scientists are Panicking - 1 Degree Makes a Big Difference
Feb. 19, 2019 9:29 am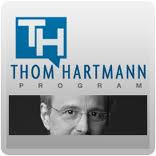 Climate change is a real emergency, not a fake one like Trump's wall. The planet has already warmed one degree, and two degrees could be a civilization-ending event. It's killing people all over the world and is getting far worse far faster than we'd thought possible.
And fossil fuel billionaires and their companies are accumulating money faster than ever... and they're spending some of that money to lie to us about how serious this crisis is. It's time to deal with climate change denial like the moral crime it is, strip the fossil fuel industry of its subsidies, and immediately tax carbon while rolling out green new deal.
-Thom