July 11-13: At Netroots Nation

The Hidden History of Guns and the 2nd Amendment Book Tour Is Coming...
Thursday, June 6: NEW YORK, NY

7:30pm
Location: The Strand (2nd floor), 828 Broadway, NYC
Monday, June 10: WASHINGTON, DC

6:30pm
Location: Busboys and Poets, 450 K St NW, Washington, DC
Wednesday, June 12: PORTLAND, OR

7:30pm
Location: Powell's, 1005 W Burnside St., Portland
Sunday, June 23: SEATTLE, WA

7:30pm
Location: Town Hall, 1119 8th Ave, Seattle (West Entrance) w/Elliott Bay Book Company
Tuesday, June 25: SAN FRANCISCO, CA

7:00pm
Location: First Church, 2345 Channing Way, Berkeley w/The Booksmith
Friday, June 28: CHICAGO, IL

7:00pm
Location: Frugal Muse, 7511 Lemont Rd. #146 (Chestnut Court Shopping Center), Darien
Saturday, June 29: MINNEAPOLIS, MN

7:00pm
Location: Common Good Books, 38 S. Snelling Ave, St. Paul
Friday, July 12: Philadelphia, PA 4:15pm - At Netroots Nation
Location: PA Convention Center, 1101 Arch Street, Philadelphia, PA
Become a Thom Supporter- Click the Patreon button
How Deep Is the Rot In the Republic Party? What Will It Take To Break the Billionaire Greed Hold and Recover?
Feb. 20, 2019 11:05 am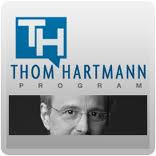 From Trump's coverups to climate change to inequality to pushing a coup in Venezuela. What we're seeing right now is the peak moment of the coup committed by the billionaire class. Billionaire Trump and billionaire Murdoch and the Kochs and Adelson have completely taken over the GOP from federal to local levels, leading to more poison, more poverty, and an entirely corrupt government from elected office to the Supreme Court and the White House.
What will it take and how long will it take to break what Jefferson called "rule by the rich" and restore some semblance of democracy to America, or are we too far gone?
-Thom