Feb. 20, 2019 10:05 am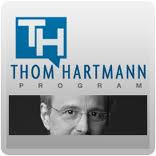 From Trump's coverups to climate change to inequality to pushing a coup in Venezuela. What we're seeing right now is the peak moment of the coup committed by the billionaire class. Billionaire Trump and billionaire Murdoch and the Kochs and Adelson have completely taken over the GOP from federal to local levels, leading to more poison, more poverty, and an entirely corrupt government from elected office to the Supreme Court and the White House.
What will it take and how long will it take to break what Jefferson called "rule by the rich" and restore some semblance of democracy to America, or are we too far gone?
-Thom