July 11-13: At Netroots Nation

The Hidden History of Guns and the 2nd Amendment Book Tour Is Coming...
Thursday, June 6: NEW YORK, NY

7:30pm
Location: The Strand (2nd floor), 828 Broadway, NYC
Monday, June 10: WASHINGTON, DC

6:30pm
Location: Busboys and Poets, 450 K St NW, Washington, DC
Wednesday, June 12: PORTLAND, OR

7:30pm
Location: Powell's, 1005 W Burnside St., Portland
Sunday, June 23: SEATTLE, WA

7:30pm
Location: Town Hall, 1119 8th Ave, Seattle (West Entrance) w/Elliott Bay Book Company
Tuesday, June 25: SAN FRANCISCO, CA

7:00pm
Location: First Church, 2345 Channing Way, Berkeley w/The Booksmith
Friday, June 28: CHICAGO, IL

7:00pm
Location: Frugal Muse, 7511 Lemont Rd. #146 (Chestnut Court Shopping Center), Darien
Saturday, June 29: MINNEAPOLIS, MN

7:00pm
Location: Common Good Books, 38 S. Snelling Ave, St. Paul
Friday, July 12: Philadelphia, PA 4:15pm - At Netroots Nation
Location: PA Convention Center, 1101 Arch Street, Philadelphia, PA
Become a Thom Supporter- Click the Patreon button
Is Trump's Emergency Crisis a Campaign Stunt?
Feb. 25, 2019 4:25 pm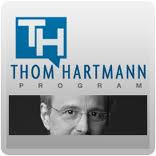 58 former national security officials, including those from both democratic and republican administrations, have written a letter telling America and congress, that Trump's reelection stunt to whip up fear of brown people among Fox news viewers has "no factual basis." That's it - A Stunt!
There is no crisis at the southern border, but there is a crisis in Central America, caused by the Reagan administration and republican policies of supporting right wing death squads.
Instead of demonizing the refuges seeking asylum - we should put our heads together and come up with a plan to help them.
-Thom