July 11-13: At Netroots Nation

The Hidden History of Guns and the 2nd Amendment Book Tour Is Coming...
Thursday, June 6: NEW YORK, NY

7:30pm
Location: The Strand (2nd floor), 828 Broadway, NYC
Monday, June 10: WASHINGTON, DC

6:30pm
Location: Busboys and Poets, 450 K St NW, Washington, DC
Wednesday, June 12: PORTLAND, OR

7:30pm
Location: Powell's, 1005 W Burnside St., Portland
Sunday, June 23: SEATTLE, WA

7:30pm
Location: Town Hall, 1119 8th Ave, Seattle (West Entrance) w/Elliott Bay Book Company
Tuesday, June 25: SAN FRANCISCO, CA

7:00pm
Location: First Church, 2345 Channing Way, Berkeley w/The Booksmith
Friday, June 28: CHICAGO, IL

7:00pm
Location: Frugal Muse, 7511 Lemont Rd. #146 (Chestnut Court Shopping Center), Darien
Saturday, June 29: MINNEAPOLIS, MN

7:00pm
Location: Common Good Books, 38 S. Snelling Ave, St. Paul
Friday, July 12: Philadelphia, PA 4:15pm - At Netroots Nation
Location: PA Convention Center, 1101 Arch Street, Philadelphia, PA
Become a Thom Supporter- Click the Patreon button
Trump's Man Says Climate Scientists are the Same as Holocaust Deniers
Feb. 21, 2019 3:13 pm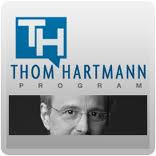 Trump has put a climate change denier who compares scientists studying carbon pollution to Nazis attacking Jews in charge of his science panel. The fossil fuel industry, like the tobacco industry before it, is making billionaires on the deaths of people.
Except that fossil fuels are killing the entire planet, rather than just causing lung cancer and heart disease. And, like the tobacco industry - which funded Mike Pence so well that in 2000 Pence wrote an op-ed denying the seriousness of the link between tobacco and cancer - the fossil fuel industry is funding politicians and think tanks to push their lies and sustain their profits.
Now Trump is putting a climate change denier in charge of his science panel, and senators who take the most money from big oil and fossil fuel billionaires like the Kochs are most likely to join in denying climate change.
-Thom