July 11-13: At Netroots Nation

The Hidden History of Guns and the 2nd Amendment Book Tour Is Coming...
​
​
Saturday, June 22: Los Angeles, CA 3:00pm - KPFK Speaker Series: Thom Hartmann (Stephanie Miller will be joining Thom) on The Hidden History of Guns

. UCLA Dodd Hall 147, 315 Portola Plaza, Los Angeles - Get tkts here

https://www.facebook.com/events/2263735727213646/

Sunday, June 23: SEATTLE, WA

7:30pm


Location: Town Hall, 1119 8th Ave, Seattle (West Entrance) w/Elliott Bay Book Company

Tuesday, June 25: SAN FRANCISCO, CA

7:00pm


Location: First Church, 2345 Channing Way, Berkeley w/The Booksmith
Here's the Facebook event:https://www.facebook.com/events/2418269571727663/And here's the link to purchase tickets: https://hiddenhistoryofguns.bpt.me/

Friday, June 28: CHICAGO, IL

7:00pm


Location: Frugal Muse, 7511 Lemont Rd. #146 (Chestnut Court Shopping Center), Darien

Saturday, June 29: MINNEAPOLIS, MN

7:00pm


Location: Common Good Books, 38 S. Snelling Ave, St. Paul

Friday, July 12: PHILADELPHIA, PA 4:15pm - At Netroots Nation
Location: PA Convention Center, 1101 Arch Street, Philadelphia, PA
Become a Thom Supporter- Click the Patreon button
Democrats Need To Reclaim the Word Freedom Now
Mar. 18, 2019 2:29 pm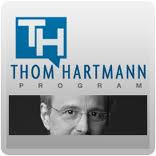 The big debate among democratic circles is about the word socialism. It really needs to be about the word freedom. Billionaires claim that freedom means no taxes for the billionaires. Industrialists claim that freedom means no regulation for their industries. Neo-Nazis claim that freedom means they have the right to terrorize, in big ways and small, minorities.
When Democrats talk about freedom, it's in the context of the American dream. If you are hungry, homeless, unemployed, sick without healthcare, or unable to get an education you are not "free." The Koch brothers have owned the word freedom with things like their group Freedomworks. We need to take that word back and put it at the center of our arguments.
Medicare for all, guaranteed good jobs or a basic income, free college education, and strengthening social security all enhance the freedom of working class Americans. Well billionaires see these as oppression, the rest of us understand they are at the core of the American dream, and that is all about freedom.
-Thom