July 11-13: At Netroots Nation

The Hidden History of Guns and the 2nd Amendment Book Tour Is Coming...
​
​
Saturday, June 22: Los Angeles, CA 3:00pm - KPFK Speaker Series: Thom Hartmann (Stephanie Miller will be joining Thom) on The Hidden History of Guns

. UCLA Dodd Hall 147, 315 Portola Plaza, Los Angeles - Get tkts here

https://www.facebook.com/events/2263735727213646/

Sunday, June 23: SEATTLE, WA

7:30pm


Location: Town Hall, 1119 8th Ave, Seattle (West Entrance) w/Elliott Bay Book Company

Tuesday, June 25: SAN FRANCISCO, CA

7:00pm


Location: First Church, 2345 Channing Way, Berkeley w/The Booksmith
Here's the Facebook event:https://www.facebook.com/events/2418269571727663/And here's the link to purchase tickets: https://hiddenhistoryofguns.bpt.me/

Friday, June 28: CHICAGO, IL

7:00pm


Location: Frugal Muse, 7511 Lemont Rd. #146 (Chestnut Court Shopping Center), Darien

Saturday, June 29: MINNEAPOLIS, MN

7:00pm


Location: Common Good Books, 38 S. Snelling Ave, St. Paul

Friday, July 12: PHILADELPHIA, PA 4:15pm - At Netroots Nation
Location: PA Convention Center, 1101 Arch Street, Philadelphia, PA
Become a Thom Supporter- Click the Patreon button
Time To Expel Rep Steve King From the House?
Mar. 19, 2019 3:12 pm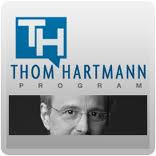 Congressman Steve King, in a new Internet meme, says that red state America has 8 trillion bullets and blue state America is still debating who can use which bathroom.
One trillion bullets is a lot of death, and pointing out that one side is well armed while the other side isn't sounds, to deranged people like the terrorist who shot up the Christchurch mosques, New Zealand or the hate filled bigots who have been murdering people in the United States for years, like a call to arms.
America has already suffered one brutal Civil War; we don't need another one. The Civil War produced numerous expulsions from the House of Representatives against men who continued to support the confederacy even after the war.
It's time to expel Steve King from the House of Representatives.
-Thom