July 11-13: At Netroots Nation

The Hidden History of Guns and the 2nd Amendment Book Tour Is Coming...
Thursday, June 6: NEW YORK, NY

7:30pm
Location: The Strand (2nd floor), 828 Broadway, NYC
Monday, June 10: WASHINGTON, DC

6:30pm
Location: Busboys and Poets, 450 K St NW, Washington, DC
Wednesday, June 12: PORTLAND, OR

7:30pm
Location: Powell's, 1005 W Burnside St., Portland
Sunday, June 23: SEATTLE, WA

7:30pm
Location: Town Hall, 1119 8th Ave, Seattle (West Entrance) w/Elliott Bay Book Company
Tuesday, June 25: SAN FRANCISCO, CA

7:00pm
Location: First Church, 2345 Channing Way, Berkeley w/The Booksmith
Friday, June 28: CHICAGO, IL

7:00pm
Location: Frugal Muse, 7511 Lemont Rd. #146 (Chestnut Court Shopping Center), Darien
Saturday, June 29: MINNEAPOLIS, MN

7:00pm
Location: Common Good Books, 38 S. Snelling Ave, St. Paul
Friday, July 12: Philadelphia, PA 4:15pm - At Netroots Nation
Location: PA Convention Center, 1101 Arch Street, Philadelphia, PA
Become a Thom Supporter- Click the Patreon button
Trump: His "Very Fine People," & The Killer in New Zealand are Connected
Mar. 15, 2019 8:41 am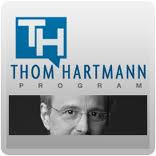 Trump is claiming that renegade cops and skinhead bikers will back him up (as sheriffs are doing now, refusing to enforce new gun background check requirements). The white nationalist terrorist in New Zealand thanks Trump for giving him and his ilk "a symbol of renewed white identity and common purpose."
Michael Cohen, who was a senior executive in the Trump Organization and was Trump's "fixer" for a decade, said that if Trump loses in 2020, there will not be a peaceful transition of power. Meanwhile, the FBI reports that white terrorists in America have killed more Americans than have Muslim terrorists or any other group.
These are all interconnected by the one thing of white supremacist ideology, and our media and politicians need to say it out loud.
-Thom