WHY I AM ASKING FOR YOUR SUPPORT AT PATREON?
Your support of the program is invaluable. Producing the Thom Hartmann Program is a labor of love for the team, but doesn't come without cost. We supply the program to non-profit, community and volunteer radio and cable stations across the US. However, this isn't cost-free and being a supporter through Patreon means you can help us to meet some of the bills, to allow us to continue free supply to the non-profit sector.
As a way of saying thank you, we would like to give you something back for your support at various levels. Every weekday, the live Thom Hartmann Program three hour program is recorded exclusively for Patreon supporters. Unedited, the full three-hour video will be right here on the Patreon page, within a couple of hours of the end of the live program. And we're also providing extra videos exclusive to sponsors.
Sponsor Special: How to Stop Your Food From Killing You. The American diet is now killing more people than high blood pressure and smoking
Become a Thom Supporter- Click the Patreon button
Trump's AG Bill Barr has a history of cover-ups - and he just struck again
Mar. 25, 2019 4:07 pm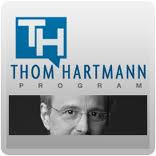 Back in 1992, the last time Bill Barr was U.S. attorney general, iconic New York Times writer William Safire referred to him as "Coverup-General Barr" because of his role in burying evidence of then-President George H.W. Bush's involvement in "Iraqgate" and "Iran-Contra."
General Barr has struck again - this time, in a similar fashion, burying Mueller's report and cherry-picking fragments of sentences from it to justify Trump's behavior. In his letter, he notes that Robert Mueller "leaves it to the attorney general to decide whether the conduct described in the report constitutes a crime."
As attorney general, Barr - without showing us even a single complete sentence from the Mueller report - decided there are no crimes here. Just keep moving along.
Barr's history of doing just this sort of thing to help Republican presidents in legal crises explains why Trump brought him back in to head the Justice Department.
Read more
here
.
-Thom