WHY I AM ASKING FOR YOUR SUPPORT AT PATREON?
Your support of the program is invaluable. Producing the Thom Hartmann Program is a labor of love for the team, but doesn't come without cost. We supply the program to non-profit, community and volunteer radio and cable stations across the US. However, this isn't cost-free and being a supporter through Patreon means you can help us to meet some of the bills, to allow us to continue free supply to the non-profit sector.
As a way of saying thank you, we would like to give you something back for your support at various levels. Every weekday, the live Thom Hartmann Program three hour program is recorded exclusively for Patreon supporters. Unedited, the full three-hour video will be right here on the Patreon page, within a couple of hours of the end of the live program. And we're also providing extra videos exclusive to sponsors.
Sponsor Special: How to Stop Your Food From Killing You. The American diet is now killing more people than high blood pressure and smoking
Become a Thom Supporter- Click the Patreon button
Are Drug Prices Higher Because Congress Has Invested in the Stock Market?
Apr. 9, 2019 2:48 pm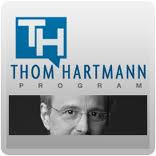 According to BuzzFeed News, the heads of the Kochhead caucus in Congress, Jim Jordan and Mark Meadows, are advising pharmaceutical companies to refuse to cooperate with Congress itself. The reporting indicates they're doing this because of their concern about the company's testimony's impact on the company's stock prices.
We don't know if this is because these members of Congress own stocks in these companies, or if they are concerned about their affect on the larger stock market, which their lord and master Donald Trump constantly points to as an indication of his extraordinary success. In either case, members of Congress helping cover up major rip offs of the American public is wrong.
Members of Congress should not be counseling corporations to refuse to cooperate with Congress.
-Thom