July 11-13: At Netroots Nation

The Hidden History of Guns and the 2nd Amendment Book Tour Is Coming...
​
​
Saturday, June 22: Los Angeles, CA 3:00pm - KPFK Speaker Series: Thom Hartmann (Stephanie Miller will be joining Thom) on The Hidden History of Guns

. UCLA Dodd Hall 147, 315 Portola Plaza, Los Angeles - Get tkts here

https://www.facebook.com/events/2263735727213646/

Sunday, June 23: SEATTLE, WA

7:30pm


Location: Town Hall, 1119 8th Ave, Seattle (West Entrance) w/Elliott Bay Book Company

Tuesday, June 25: SAN FRANCISCO, CA

7:00pm


Location: First Church, 2345 Channing Way, Berkeley w/The Booksmith
Here's the Facebook event:https://www.facebook.com/events/2418269571727663/And here's the link to purchase tickets: https://hiddenhistoryofguns.bpt.me/

Friday, June 28: CHICAGO, IL

7:00pm


Location: Frugal Muse, 7511 Lemont Rd. #146 (Chestnut Court Shopping Center), Darien

Saturday, June 29: MINNEAPOLIS, MN

7:00pm


Location: Common Good Books, 38 S. Snelling Ave, St. Paul

Friday, July 12: PHILADELPHIA, PA 4:15pm - At Netroots Nation
Location: PA Convention Center, 1101 Arch Street, Philadelphia, PA
Become a Thom Supporter- Click the Patreon button
Are Drug Prices Higher Because Congress Has Invested in the Stock Market?
Apr. 9, 2019 2:48 pm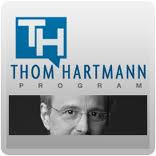 According to BuzzFeed News, the heads of the Kochhead caucus in Congress, Jim Jordan and Mark Meadows, are advising pharmaceutical companies to refuse to cooperate with Congress itself. The reporting indicates they're doing this because of their concern about the company's testimony's impact on the company's stock prices.
We don't know if this is because these members of Congress own stocks in these companies, or if they are concerned about their affect on the larger stock market, which their lord and master Donald Trump constantly points to as an indication of his extraordinary success. In either case, members of Congress helping cover up major rip offs of the American public is wrong.
Members of Congress should not be counseling corporations to refuse to cooperate with Congress.
-Thom