WHY I AM ASKING FOR YOUR SUPPORT AT PATREON?
Your support of the program is invaluable. Producing the Thom Hartmann Program is a labor of love for the team, but doesn't come without cost. We supply the program to non-profit, community and volunteer radio and cable stations across the US. However, this isn't cost-free and being a supporter through Patreon means you can help us to meet some of the bills, to allow us to continue free supply to the non-profit sector.
As a way of saying thank you, we would like to give you something back for your support at various levels. Every weekday, the live Thom Hartmann Program three hour program is recorded exclusively for Patreon supporters. Unedited, the full three-hour video will be right here on the Patreon page, within a couple of hours of the end of the live program. And we're also providing extra videos exclusive to sponsors.
Sponsor Special: How to Stop Your Food From Killing You. The American diet is now killing more people than high blood pressure and smoking
Become a Thom Supporter- Click the Patreon button
How Billionaires Buy Laws & How To Stop Them
Apr. 4, 2019 3:37 pm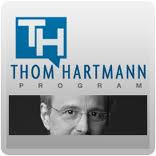 The "Asbestos Transparency Act" makes it harder for victims of asbestos to get compensation; the H0PE Act makes it harder for people to get food stamps. Over 10,000 pieces of highly deceptive legislation like these have been introduced in state houses over the last eight years, according to a new investigation by USA Today, and over 2000 of them have become law.
They are all written by corporations and given to Republican state legislators by the American Legislative Exchange Council or ALEC. This is called corruption, and its why Americans have lost faith in politics. Fossil fuel billionaires like the Kochs and others have bought our political process since the Supreme Court legalize this in 1976.
It's time to pass a constitutional amendment to get money out of politics.
-Thom