The Hidden History of Guns and the 2nd Amendment Book Tour Is Coming...

Thursday, June 6: NEW YORK, NY

7:30pm

Location: The Strand (2nd floor), 828 Broadway, NYC

Monday, June 10: WASHINGTON, DC 6:30pm

Location: Busboys and Poets, 450 K St NW, Washington, DC

Wednesday, June 12: PORTLAND, OR 7:30pm

Location: Powell's, 1005 W Burnside St., Portland

Sunday, June 23: SEATTLE, WA 7:30pm

Location: Town Hall, 1119 8th Ave, Seattle (West Entrance) w/Elliott Bay Book Company

Tuesday, June 25: SAN FRANCISCO, CA 7:00pm

Location: First Church, 2345 Channing Way, Berkeley w/The Booksmith

Friday, June 28: CHICAGO, IL 7:00pm

Location: Frugal Muse, 7511 Lemont Rd. #146 (Chestnut Court Shopping Center), Darien

Saturday, June 29: MINNEAPOLIS, MN 7:00pm

Location: Common Good Books, 38 S. Snelling Ave, St. Paul

Become a Thom Supporter- Click the Patreon button
Is Impeachment a Remedy to Hate?
Apr. 25, 2019 3:34 pm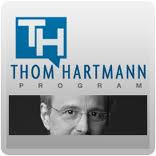 Since Trump took office, we have seen several white supremacist, Fox news watching, Donald Trump cult following "very fine people" try to send pipe bombs to the entire leadership of the Democratic Party, murder a young woman in Charlottesville, show up at Hillary Clinton's house to try to arrest her, make death threats against black and Muslim members of Congress. His supporters have murdered multiple people across America already.
And now Trump supporter Franklin Graham is going after Pete Buttigieg for being gay. Counties that hosted Trump campaign rallies have seen a 226% increase in hate crimes immediately following the rallies.
Donald Trump is spreading a disease in America, and a small part of the cure for that disease is to disgrace and discredit him through a comprehensive impeachment investigation.
-Thom