July 11-13: At Netroots Nation

The Hidden History of Guns and the 2nd Amendment Book Tour Is Coming...
​
​
Saturday, June 22: Los Angeles, CA 3:00pm - KPFK Speaker Series: Thom Hartmann (Stephanie Miller will be joining Thom) on The Hidden History of Guns

. UCLA Dodd Hall 147, 315 Portola Plaza, Los Angeles - Get tkts here

https://www.facebook.com/events/2263735727213646/

Sunday, June 23: SEATTLE, WA

7:30pm


Location: Town Hall, 1119 8th Ave, Seattle (West Entrance) w/Elliott Bay Book Company

Tuesday, June 25: SAN FRANCISCO, CA

7:00pm


Location: First Church, 2345 Channing Way, Berkeley w/The Booksmith
Here's the Facebook event:https://www.facebook.com/events/2418269571727663/And here's the link to purchase tickets: https://hiddenhistoryofguns.bpt.me/

Friday, June 28: CHICAGO, IL

7:00pm


Location: Frugal Muse, 7511 Lemont Rd. #146 (Chestnut Court Shopping Center), Darien

Saturday, June 29: MINNEAPOLIS, MN

7:00pm


Location: Common Good Books, 38 S. Snelling Ave, St. Paul

Friday, July 12: PHILADELPHIA, PA 4:15pm - At Netroots Nation
Location: PA Convention Center, 1101 Arch Street, Philadelphia, PA
Become a Thom Supporter- Click the Patreon button
Is Mike Pence A Christian?

Apr. 15, 2019 4:09 pm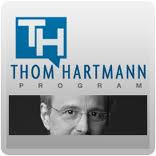 Mike Pence and the multimillionaire televangelists who support him argue that to be a Christian one must discriminate against gay people, use the power of the state to prevent women from getting abortions or birth control, support tearing refugee children from their parents, and prevent the working poor from having access to healthcare.
Pete Buttigieg has opened a new and much-needed conversation about what it means to be a Christian. He takes his inspiration from Matthew 25, the place in the Bible where Jesus explicitly tells his disciples what they have to do to get into heaven, which says that we must feed the hungry, heal the sick, and welcome the stranger.
The simple reality is that Jesus would not recognize the kind of Christianity being preached by Pence, Falwell, Graham and others. But he would immediately recognize Pete Buttigieg as one of his own.
-Thom