The Hidden History of Guns and the 2nd Amendment Book Tour Is Coming...

Thursday, June 6: NEW YORK, NY

7:30pm

Location: The Strand (2nd floor), 828 Broadway, NYC

Monday, June 10: WASHINGTON, DC 6:30pm

Location: Busboys and Poets, 450 K St NW, Washington, DC

Wednesday, June 12: PORTLAND, OR 7:30pm

Location: Powell's, 1005 W Burnside St., Portland

Sunday, June 23: SEATTLE, WA 7:30pm

Location: Town Hall, 1119 8th Ave, Seattle (West Entrance) w/Elliott Bay Book Company

Tuesday, June 25: SAN FRANCISCO, CA 7:00pm

Location: First Church, 2345 Channing Way, Berkeley w/The Booksmith

Friday, June 28: CHICAGO, IL 7:00pm

Location: Frugal Muse, 7511 Lemont Rd. #146 (Chestnut Court Shopping Center), Darien

Saturday, June 29: MINNEAPOLIS, MN 7:00pm

Location: Common Good Books, 38 S. Snelling Ave, St. Paul

Become a Thom Supporter- Click the Patreon button
No More Presidential Immunity!
Apr. 18, 2019 4:06 pm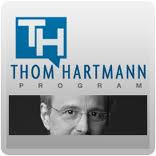 When Richard Nixon committed multiple Felonies, including accepting bribes in cash in the White House, Jerry Ford chose to pardon him.
When Ronald Reagan committed treason in 1980 to get elected, Attorney General Bill Barr shut down the investigation in 1992 with five pardons.
As the evidence accumulated that George W. Bush and Dick Cheney intentionally lied to the American people in order to get us into a war with Iraq, Congress decided to look the other way.
And now we have a man in the White House who got there with help from foreign billionaires who do business with him from Russia to the Middle East.
It's time to start holding our presidents accountable and that needs to begin today.
-Thom