The Hidden History of Guns and the 2nd Amendment Book Tour Is Coming...

Thursday, June 6: NEW YORK, NY

7:30pm

Location: The Strand (2nd floor), 828 Broadway, NYC

Monday, June 10: WASHINGTON, DC 6:30pm

Location: Busboys and Poets, 450 K St NW, Washington, DC

Wednesday, June 12: PORTLAND, OR 7:30pm

Location: Powell's, 1005 W Burnside St., Portland

Sunday, June 23: SEATTLE, WA 7:30pm

Location: Town Hall, 1119 8th Ave, Seattle (West Entrance) w/Elliott Bay Book Company

Tuesday, June 25: SAN FRANCISCO, CA 7:00pm

Location: First Church, 2345 Channing Way, Berkeley w/The Booksmith

Friday, June 28: CHICAGO, IL 7:00pm

Location: Frugal Muse, 7511 Lemont Rd. #146 (Chestnut Court Shopping Center), Darien

Saturday, June 29: MINNEAPOLIS, MN 7:00pm

Location: Common Good Books, 38 S. Snelling Ave, St. Paul

Become a Thom Supporter- Click the Patreon button
What Are They Hiding?
Apr. 29, 2019 4:20 pm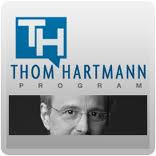 The Trump administration clearly has a lot to hide. The question is, what exactly are they hiding? Why is Steve Mnuchin willing to go to jail rather than share Trump's tax returns in private with members of Congress?
Why is Bill Barr refusing to answer questions from Congress and their staff? Are they covering up crimes? Are they covering up simple wrongdoing? And why would these people cover up on behalf of a grifter who most recently was convicted of fraud and paid a $25 million fine for it with Trump university? Is it so important to be that close to power that they are willing to ruin their reputations or even go to jail?
Or does Trump have something on them, too? What the hell is going on here?
-Thom