WHY I AM ASKING FOR YOUR SUPPORT AT PATREON?
Your support of the program is invaluable. Producing the Thom Hartmann Program is a labor of love for the team, but doesn't come without cost. We supply the program to non-profit, community and volunteer radio and cable stations across the US. However, this isn't cost-free and being a supporter through Patreon means you can help us to meet some of the bills, to allow us to continue free supply to the non-profit sector.
As a way of saying thank you, we would like to give you something back for your support at various levels. Every weekday, the live Thom Hartmann Program three hour program is recorded exclusively for Patreon supporters. Unedited, the full three-hour video will be right here on the Patreon page, within a couple of hours of the end of the live program. And we're also providing extra videos exclusive to sponsors.
Sponsor Special: How to Stop Your Food From Killing You. The American diet is now killing more people than high blood pressure and smoking
Become a Thom Supporter- Click the Patreon button
Will Trump's Secret Plan for Healthcare Help Him Win in 2020?
Apr. 2, 2019 4:01 pm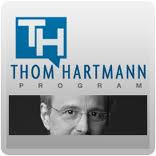 Trump and the Republicans have essentially told us that they have a plan for healthcare that's better than Obamacare and better than anything Bernie or other Democrats could come up with. But, they can't tell us the details until after the election because it is so explosive and so extraordinary.
So we just have to vote for them in 2020 and wait for the wonderful healthcare program to be rolled out. Just like Richard Nixon told us in 1972 that he had a secret planned in the word Vietnam, and we just had to wait until after the election for him to give us the details.
It worked for Nixon and 72; will it work for Trump in 2020?
-Thom