The Hidden History of Guns and the 2nd Amendment Book Tour Is Coming...

Thursday, June 6: NEW YORK, NY

7:30pm

Location: The Strand (2nd floor), 828 Broadway, NYC

Monday, June 10: WASHINGTON, DC 6:30pm

Location: Busboys and Poets, 450 K St NW, Washington, DC

Wednesday, June 12: PORTLAND, OR 7:30pm

Location: Powell's, 1005 W Burnside St., Portland

Sunday, June 23: SEATTLE, WA 7:30pm

Location: Town Hall, 1119 8th Ave, Seattle (West Entrance) w/Elliott Bay Book Company

Tuesday, June 25: SAN FRANCISCO, CA 7:00pm

Location: First Church, 2345 Channing Way, Berkeley w/The Booksmith

Friday, June 28: CHICAGO, IL 7:00pm

Location: Frugal Muse, 7511 Lemont Rd. #146 (Chestnut Court Shopping Center), Darien

Saturday, June 29: MINNEAPOLIS, MN 7:00pm

Location: Common Good Books, 38 S. Snelling Ave, St. Paul

Become a Thom Supporter- Click the Patreon button
How Does America Protect Itself From a 24/7 Billionaire Funded Propaganda News Outlet?
May. 9, 2019 3:37 pm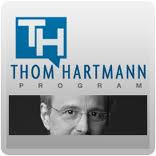 Back 2011, a study from Farley Dickinson University found that people who watch Fox News are actually measurably less likely to know facts about current events and more likely to believe things that are not true. Now a new poll of Fox viewers versus those who watch everything else confirms that it still the case. More than 2/3 of Fox viewers, for example, say they support trump and aren't are not worried about future Russian election interference, whereas only about a third of viewers of all other news sources agree.
Rupert Murdoch has created a massive propaganda vehicle here in the United States that has actually altered the course and fate of our country, much as he did in the UK and Australia. Former Australian Prime Minister Kevin Rudd called him and his media empire "a cancer upon Australian democracy." That cancer has metastasized around the world.
Which raises the question, "How, in an open democracy, can the people protect themselves from a massive, billionaire funded 24/7 propaganda operation?"
-Thom