The Hidden History of Guns and the 2nd Amendment Book Tour Is Coming...

Thursday, June 6: NEW YORK, NY

7:30pm

Location: The Strand (2nd floor), 828 Broadway, NYC

Monday, June 10: WASHINGTON, DC 6:30pm

Location: Busboys and Poets, 450 K St NW, Washington, DC

Wednesday, June 12: PORTLAND, OR 7:30pm

Location: Powell's, 1005 W Burnside St., Portland

Sunday, June 23: SEATTLE, WA 7:30pm

Location: Town Hall, 1119 8th Ave, Seattle (West Entrance) w/Elliott Bay Book Company

Tuesday, June 25: SAN FRANCISCO, CA 7:00pm

Location: First Church, 2345 Channing Way, Berkeley w/The Booksmith

Friday, June 28: CHICAGO, IL 7:00pm

Location: Frugal Muse, 7511 Lemont Rd. #146 (Chestnut Court Shopping Center), Darien

Saturday, June 29: MINNEAPOLIS, MN 7:00pm

Location: Common Good Books, 38 S. Snelling Ave, St. Paul

Become a Thom Supporter- Click the Patreon button
Mueller Report: Why Won't the Media Report That Barr's Redactions Are to Protect The Trump Crime Family?
May. 7, 2019 5:23 pm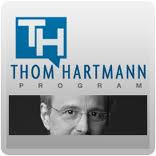 Coverup General Bill Barr has said that he redacted information in the Mueller Report "that would unduly infringe on the personal privacy and reputational interests of peripheral third parties." He's also made it clear that Donald Trump was not a "subject" of the investigation, which means that Donald Trump himself is a "third-party."
This may be why Trump and Barr are fighting so hard to prevent the unredacted material from going even to Congress, because the "third-party" person who Barr is protecting is Donald Trump, and perhaps even the rest of the Trump Crime Family, including Kushner.
Barr has been playing slick with words throughout this process to protect Trump, and he's still doing it.
-Thom