How Do We Help the Victims of This "Reality Star" President?
Jul. 12, 2019 3:40 pm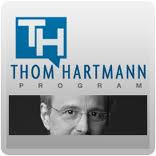 When Donald Trump was doing a reality show for NBC, he was messing with a few peoples lives - and apparently delighting in it - but the impact was minimal. Now he is quite literally running a daily reality show out of the White House and messing with the lives of all Americans and the planet more broadly. He's still delighting in the power and control, but the damage that he's doing now is far greater than what he did to the few people who were his victims on reality TV.
The American press needs to begin covering Trump as a reality show host rather than a president, because that is the simple reality.
-Thom