Will Racism Backfire on Trump...Or not?
Jul. 17, 2019 2:02 pm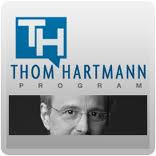 Trump's son Eric said on Fox News that he's loving the Democrats being upset about Trump's racist language. He argued that it's playing right into their hands. Is it true that Democrats reacting to Trump's new radicalized version of the old Nixon-era "Love it or leave it" language is going to lead to a massive shift among white and hispanic voters toward the GOP? Or will racism finally backfire on the Republican Party, fifty years after Nixon rolled out his "Southern Strategy"?
-Thom