Aug. 26, 2019 3:06 pm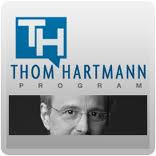 While the Amazon is on fire, reporter Lee Fang details how Republican lobbyists in the United States are helping organize American multinational corporations to exploit that rain forest. Reporter Judd Legum tells us that fossil fuel lobbyists inside the DNC voted to kill a Democratic Party climate debate. Climate change is the most expensive and destructive force in the world right now, but business and lobbyists see it as an opportunity to make more money. More money destroying the rain forests, more money rebuilding from storms, more money from staying in power by vilifying climate refugees like the people fleeing Guatemala's five year drought and showing up on the southern border of the United States.
As Teddy Roosevelt said, "There could be no effective control of corporations while their political activity remains."
-Thom