The right-wing love affair with Ayn Rand ties conservatism to one of the most disturbing sociopathic killers
Aug. 13, 2019 8:44 am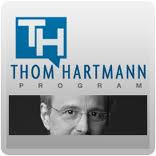 There's a direct link between a sociopathic killer in 1927 and the GOP's willingness to embrace a sociopathic president like Trump. That link runs through the work of Ayn Rand.
When Donald Trump was running for the GOP nomination, he told USA Today's Kirsten Powers that Ayn Rand's raped-girl-decides-she-likes-it novel, The Fountainhead, was his favorite book.
"It relates to business, beauty, life and inner emotions," he told Powers. "That book relates to ... everything."
Trump probably knew that anything by Rand would be the right answer for Republicans; the party has embraced her for decades, to the point that Paul Ryan required interns to read her books as a condition of employment.
Read more
here
.
-Thom