Sep. 4, 2019 4:07 pm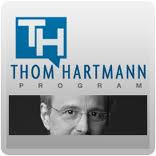 While we have recently been treated to 24/7 disaster porn around hurricane Dorian, the part of the story that's almost completely, missing from American coverage but commonly and prominently displayed in European coverage, is the role climate change is playing in amplifying the intensity of storms.
The fossil fuel Industry and its toxic billionaires have purchased the Republican Party, and the Party argues that climate change is a "political" rather than scientific issue. The media, trying to be "balanced" when it comes to politics, has bought this hook, line and sinker and, thus, has stopped talking about climate change because they don't want to seem "political."
Think about how many conversations about climate change you have heard in the mainstream media this past week. One? Two? None? Use social media and email to respond to the media you watch, read, or listen to and demand that they begin to honestly cover climate change.
The future of human civilization is at stake.
-Thom